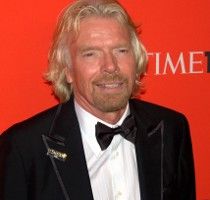 When we see and hear stories about the rich and famous it is easy to think that this was the life they always led. But many of them had to work hard taking on regular, unglamorous jobs before they finally got that lucky break.
Here we show how the following celebrities paid their rent before they hit the big time.
Robert Pattinson
He reached worldwide fame for his leading role of Edward Cullen in the Twilight films, but acting wasn't his first career. At the tender age of 12 he was discovered as a model, but this career path began to falter after four years. He told Closer Magazine: "When I first started I was quite tall and looked like a girl, so I got lots of jobs. [...] Then, I guess, I became too much of a guy, so I never got any more jobs."
Michelle Obama
The First Lady of the United States has an impressive CV. After graduating from Princeton University and Harvard Law School, she worked at a large Chicago law firm where she met her future husband. But Michelle didn't always want to be a lawyer. "I wanted to be a pediatrician," she told Vogue, "until I realised science wasn't much fun."
Sir Richard Branson (shown in the image on the left)
Branson is one of the richest people in the UK and founder of the Virgin Group which today consists of more than 300 companies. The self-made billionaire started the Virgin business over 40 years ago as a mail order record retailer. He talks about it in his autobiography on the Virgin homepage: "In 1970 I founded Virgin as a mail order record retailer, and shortly afterwards I opened a record shop in Oxford Street, London. In 1972 we built a recording studio in Oxfordshire where the first Virgin artist, Mike Oldfield, recorded 'Tubular Bells'."
Jennifer Aniston
While Jennifer Aniston tried to get acting work in New York and Hollywood, she worked as a waitress. She wasn't good at waiting tables and she even dropped burgers in customers' laps, she told Marie Claire. But charming as she was, people still liked her. Did this experience affect the roles she took? The Internet Movie Database (imdb.com) lists all the films where she played a waitress: Friends; Office Space; The Iron Giant and Along Came Polly.
Gordon Ramsay
As a teenager, Gordon Ramsay was a keen and talented footballer, but due to injuries he couldn't pursue this as a career. The biography on his homepage explains how he went from football to fine dining: "He then went back to college to complete a course in hotel management and his dedication and natural talent led him to train with some of world's leading chefs."
Steve Buscemi
Before he had his acting breakthrough, Steve Buscemi worked in as a firefighter downtown New York's Engine Company 55 from 1980 to 1985. People magazine reported in 2001 that the day after 9/11, he rejoined his former comrades to help out. "He put in 60 hours on top of the pile, pulling out victims," retired NYFD battalion chief Richard Ardisson, who was at the site with Buscemi, told People magazine.
Simon Cowell
Long before Simon Cowell became the pop mogul he is today, he had his fair share of menial jobs. According to his bio on IMDb, he worked as a mail boy at EMI and eventually worked his way to become an A&R (artist and relations) representative.
Lord Sugar
Lord Sugar is one of the UK's most successful and influential businessmen. He achieved huge success with the electronics company Amstrad (Alan Michael Sugar Trading) which he founded more than four decades ago. His profile on Virgin Media money reveals what he did even before that. After leaving school at 16 and took on a range of jobs -- from civil service statistician to selling car aerials from the back of a van.
Image Copyright by David Shankbone.