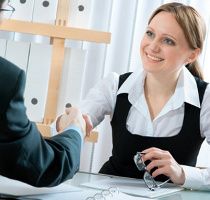 With the employment market as tough as it is, simply having extensive work experience or an impressive suite of qualifications may not be enough to get us the job we want. Nowadays, each and every ad for a job vacancy gets thousands of responses. What is it about you that's going to make someone choose you? There are plenty of other people out there, with the same degree as you, the same numbers of years of work experience as you -- and applying for the same jobs as you. Are you prepared to do something special in order to be seen as special as you really are?
Although it's not necessary, or even advisable, to be gimmicky, there are some sensible ways you can think outside the box in order to give yourself more of an edge.
Call up the employer beforehand. What are most job seekers not doing that is worth doing? Or to put it another way, how do most job seekers apply for jobs? They email a resume or application form cold, that's how. So if you were to call up the employer beforehand and discuss the job vacancy with someone, that would mark you out as different from the majority.
Leverage social media. The bigger the organisation is, the harder it is to know who exactly to call up. This is where social media can help a job hunter out big time. Dig around for potential contacts by looking at the list of employees on the company's LinkedIn profile. Search Twellow for Twitter users who mention in their bio that they work for the organisation. See if the employer has a Facebook group or page. If so, take a look at who runs it and see if they could be a possible contact. If none of the people you come across seem appropriate for discussing the vacancy with, see if they can put you in touch with someone who is.
Find out who to address your application to. Be different in the way you actually send your CV. First thing's first -- always address the cover letter to an actual person instead of to the nameless, genderless 'Sir/Madam'. If the relevant individual's name isn't on the job ad, find out who to address your application to from whoever you discuss the role with, as per above.
Send or deliver a printed-out application. Imagine how many emailed CVs HR managers and employment agents get every single day. Wouldn't it be refreshing if more job candidates sent nicely printed-out applications through the traditional mail? Consider doing this, or, if you live near enough, you might even hand deliver the application to the organisation's reception.
Always follow up. The way you follow up can be as significant as the way you initially make contact. Every time someone gives up their time to discuss a job opening with you, or bothers to send a written response to an application you've sent, send off a small note or email thanking them. They won't be expecting it and it'll make for a pleasant surprise.
In fact, the more pleasant you can make someone's overall experience of dealing with you, the more likely it is they'll remember you. Go out of your way to be respectful and thoughtful every time you make contact with an organisation you want to work for. Stand out as the person that the employer would most want as a representative and colleague. If you treat the company like it's special, it will come to see you as special.
About the author
Nisa Chitakasem is founder of Position Ignition, the UK's leading Career Consulting Company, and co-author of How to Get the Job You Want. Nisa co-founded Position Ignition.com to provide career consulting to people looking for guidance and support through their career change, new career direction, job search and career development.
Image: © Alexander Raths - Fotolia.com