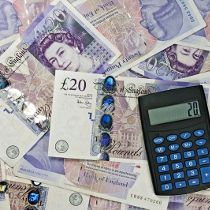 The green shoots of recovery may still be few and far between, but the latest figures from the Office of National Statistics (ONS) reveal that some professions have enjoyed rising salaries over the last year. We take a look at the fastest pay risers - and the routes into them - and the jobs which have seen the biggest drops.
Smiths and forge workers - Up 35.9 per cent (average pay £24,549)
Pay for smiths and forge workers saw the biggest rise of all the career categories defined by the ONS in the year ending April 2012. Salaries in the sector went up by more than one third - taking the industry average to a whisker below the national average full time pay packet.
How to get in: There is no formal qualification to work as a blacksmith or in industrial metalwork, however many entering the sector choose to take a BTEC diploma in the discipline. It is also possible to get on-the-job training.
Psychologists - Up 23.3 per cent (average pay £40,276)
Psychologists work in a number of sectors - including the NHS, private healthcare, education, counselling, the armed forces, sport and in the commercial world. On average, it takes seven years to qualify as one - but with an average rise in annual salaries of almost a quarter, it's a field that must look more attractive than ever to students and jobseekers.
How to get in: Studying psychology at university is the obvious first step, and psychologists tend to specialise in their chosen discipline as they rise up the academic ladder - from undergraduate degree to postgraduate qualifications.
Rail and rolling stock builders and repairers - Up 15.6 per cent (average pay £38,711)
Despite the high-profile loss of a big train-building contract to Germany, the rail building and maintenance sector still appears to be paying well. It's the third-fastest-rising category in the ONS list and average pay is a hefty £38,711.
How to get in: There are numerous routes into the sector, with mechanical engineering and civil engineering qualifications being the most-likely routes for the train-building and railway-building sectors respectively.
Fishmongers and poultry dressers - Up 13.9 per cent (average pay £16,531)
They might not be the most glamorous careers in the world - or the highest paid - but it seems the fortunes of the nation's fishmongers and poultry dressers are rising. Whether the sizeable 13.9 per cent average wage increase is down to an increased interest in food authenticity among the general public - or a shortage of skilled knife-wielders - is unclear.
How to get in: There is no formal training route into fishmongery or poultry preparation, with on-the-job training and apprenticeships being the most-common way in. The Billingsgate Seafood School offers introductory courses (which can be free) and training for those interested in a career in fishmongery.
CEOs and senior officials - 11.8 per cent (average pay £85,223)
We might all be in it together, but the top echelons of management are still giving themselves higher pay rises than the majority of the workforce are lucky enough to receive. The average salary for CEOs and senior officials rose to more than three times the national average wage over the last year - and it is unclear whether that includes bonuses, share options and benefits.
How to get in: Obviously it's not as simple as sending your CV to Vodafone offering your services as CEO, but there is a clearly defined path into senior management - and taking an MBA from a university or college with a good reputation is the first step on that path for many.
Fastest-falling salaries...
The ONS survey also revealed the losers in the big game of salary snakes and ladders, and we've picked out the bottom four to provide a snapshot of the careers which are suffering.
The biggest average pay cut (in percentage terms) appears to have been taken by social and humanities scientists, with a drop of 21.4 per cent to £23,447 - taking the sector below the average national wage.
Advertising always suffers in a recession, so it's not a surprise to find advertising accounts managers and creative directors second-to-bottom with an average pay drop of 18.8 per cent to £32,458.
And it seems the tourist industry must still be suffering, with hotel and accommodation managers and proprietors seeing their average salary fall 10.4 per cent to £25,003.
Podiatrists were next on the list, with average pay tumbling 9.9 per cent to £29,097.
All figures were taken from the Office of National Statistics' Annual Survey of Hours and Earnings.
Image: © graja - Veer.com