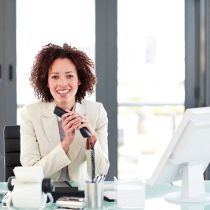 No longer merely a fallback or first rung on the ladder, temping is becoming an increasingly attractive proposition for many workers.
According to recruitment firm Randstad, more than half (63 per cent) of the temps they surveyed in 2012 had actively chosen not to pursue permanent job opportunities.
Mark Bull, Randstad CEO, explains: 'The ongoing weakness of the economy is driving an increased interest in contract and temporary working.
'Clearly, many people are turning to this work style because there are less permanent opportunities, but the lack of job security during this slow recovery is also encouraging people to think seriously about temping or contracting for the first time.'
So what is temping?
Basically anyone who is not on a fixed term or permanent contract with their employer is probably a temp, whether they're an agency nurse or teacher, a PA or a graphic designer.
The work can be ended at any time by either party and the pay is calculated on an hourly or daily rate. Temps can be employed to cover staff absence (from a week's holiday to a maternity break), to help at busy times or even as a cost-effective way of trying out potential permanent employees.
Pay and conditions
Since October 2011, agency workers have qualified for the same treatment as permanent employees on pay and benefits after a 12-week qualifying period.
Amongst other things, this means that all temps should receive a minimum of 5.6 weeks paid leave per annum - and pay is usually made on a weekly basis rather than monthly in arrears.
Since October 2012, temporary workers have had access to the same pension schemes offered to permanent members of staff. In addition, Randstad's study found that 78 per cent of employers had extended benefits, such as car parking, crèches, canteens and transport, to temporary workers.
Flexibility
It's undoubtedly convenient for an employer to be able to hire or dismiss staff at a moment's notice, but the same flexibility can be a big draw for employees too.
The ability to work when you choose is appreciated by people juggling work and family life, along with those who prefer to "get on with the job" rather than becoming involved in office politics.
Make temping work for you
If you're just starting out or moving industries, temping can provide a valuable "foot in the door" at a company you'd like to work for, as well as the opportunity to make contacts.
As Clare Whitmell, who blogs on careers at www.JobMarketSuccess.com, explains: 'Temping gives you an opportunity to decide which kind of work culture suits you best - the experience of being a PA in an insurance company and in a media firm might be quite different, for example.'
Temping also lets you try out a role without going through a lengthy recruitment process or having to commit yourself, while picking up skills along the way.
'Different software, varied job tasks, contrasting office cultures - being a temp can mean having to spend more of your time learning the ropes than usual, but the flipside of that is you get a broad understanding of how a job is done across the industry, rather than just in one company,' adds Clare.
Turning a temp into a permanent role
You may only be position for a short time, so it's vital to make a good impression. As temps are often needed to cover absence or work on high profile projects, don't be surprised to enter a pressurised environment - and a temp that's 20 minutes late won't be looked on favourably.
'Aim to be at the office 15 minutes before you're scheduled to start working,' suggests Clare. 'You want to hit the ground running, so use that time to find the kitchen and toilets and be introduced to key people in the team.'
If you're looking for a permanent role, it pays to be direct. 'Ask up front if you can apply for any full-time positions that arise during your contract period and aim to meet (and impress) as many key people as possible,' says Clare.
'Think of yourself as a permanent employee - which means if you don't know the answer to something, find out, rather than having a, 'I'm just a temp attitude.' Your positive outlook could be the thing that managers remember about you when it comes to hiring time.'
Finally, make sure to complete any projects you're working on before you leave.
'Finishing up projects, even if it means working for a few hours in your own time, will go a long way to impressing a potential permanent employer,' says Clare.
Image: © Wavebreakmediamicrro - Veer.com